By now the whole world must have heard (or not) of the deadly ebola virus and its rapid spread across some African countries.  Patrick Sawyer, the Liberian diplomat who (intentionally?) brought the disease into Nigeria will be a name never to be forgotten by Nigerians in a very long time. 
The fact that the hospital where he was admitted in and died, as well as another hospital where a patient was tested positive are a few kilometers away from my office is not at all comforting!  What about the bus trips to and from work?  You know how Lagos buses can be jam-packed with passengers and the exchange of body fluids is almost inevitable.. oh the horrible thought!  My paranoiac mind has been very active these past few weeks, sounding an alarm button each time I get an itch, my nose runs, my stomach cramps or I have a backache. I constantly have to re-read the symptoms of the virus to set my self at ease.  Its draining but hey, ebola is just next door, what would you do if you were me?
As news stations continue to update us on potential victims being tested positive and the web of secondary infected victims continues to widen, our thoughts are not only with those infected but also about how not to get infected.  Several offices (including mine) have taken proactive steps to educate and inform staff about the virus, and have even gone as far as providing hand sanitizers for private use and sanitizer dispensers at receptions for public use.  I applaud these efforts, as well as that of the government and other agencies.  As a social media blogger, I am here to do my own part in sensitizing my dear readers – as well as keeping myself as calm as I possibly can – on what we need to know and do to keep ourselves safe. Here is a pictorial overview of basic facts you need to know
WHAT IS EBOLA AND HOW IS IT SPREAD?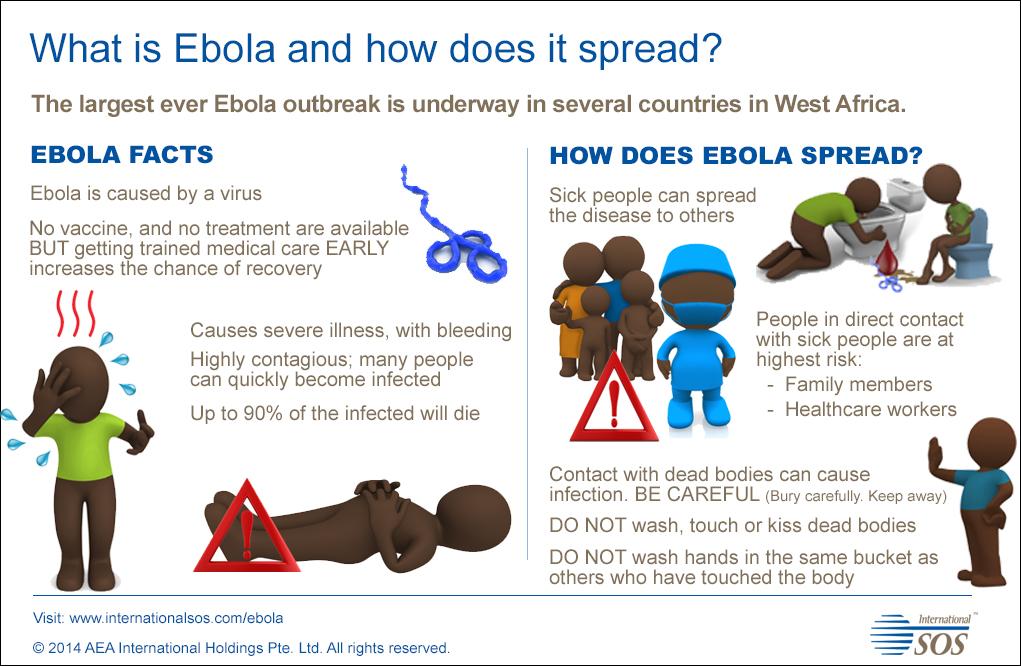 SYMPTOMS OF EBOLA
PREVENTIVE MEASURES
Ebola cannot be transmitted via water which is why you should practice good hygiene and wash wash wash, shower shower shower!! You can also not get infected via food – this fact is debatable to me because isn't all that bush meat and suya food?  What If I want to cook some delicious Afang soup with bush meat or make indomie with suya chips in it?  Yikes!
Please use hand sanitizers with alcoholic content 60% and up.  Do not use raw bleach to sanitize your hands, it must be diluted in some water first or else you risk skin corrosion.
The upside of the outbreak of this terrible disease is that almost every ignorant and illiterate Tom, Dick and Harry can now define the word "hand sanitizer", haha!  Also everyone is beginning to develop better hand-washing and personal hygiene practices, which is not something many Lagosians are known for! Many people have also decided to stay at home instead of going to club thereby mixing body fluids at the club – which means that there will be more quality time spent at home! 
The downside is that our dear suya stands, many gyms and public outlets will lose patronage for a while.  Someone has suggested that schools remain shut after the summer holidays to better prevent their children from getting infected.  You can't blame nobody for bringing that up!  Also for those who have hiked the price of hand sanitizers to make excessive profits while making it difficult for people to afford to buy… There is God o!  If you cant afford one, please use soap and water – its actually more effective.
Too much said already.  Stay safe my people!!